I suspect that even the foodiest of foodies and the fanciest of sommeliers will appreciate my fine palate and wine pairing choices.   Recently, I allowed a bag of Cheetos in the house*.   After a very long day of work, I discovered how deliciously they paired with our Lightning 2013 Chevalier Family Grenache and thought it only right that I share with all of you.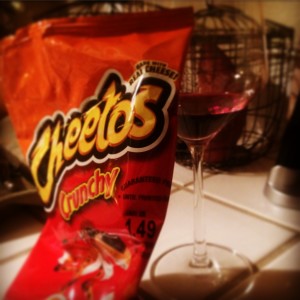 Lick that cheetle off your fingers and pour another glass!
XXOO –
Brooke
*I have a great fondness for chips and dip and that's not conducive to my health or fitness goals, thus my ban on the crunchy critters.