About
Lightning Wines – End of one chapter, but on to the next.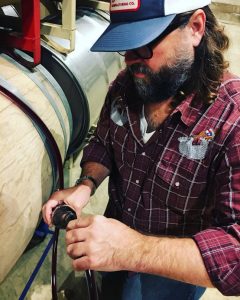 When we moved to Napa Valley in 2006, we had a 10-year plan. Our goal was to learn as much as possible in Napa Valley, so we could have strong experience and knowledge to take back home to Texas and make wines there.
We both landed great jobs working with amazing winery owners, winemakers and mentors. We also fell head over heels for Grenache and by 2011 we produced the first vintage of LIGHTNING. Even while putting everything we had behind LIGHTNING, our focus on one-day producing a high quality Texas wine never waivered.
In 2014 we produced our first C.L. BUTAUD wine (which was awarded "Top Texas Wine of the Year" by Texas Monthly) logged a lot of airline miles flying back and forth, and worked even harder to make the best wines we possibly could in both states.
We exceeded all of our expectations during our 14 years in the California wine industry, but the time has come for us to focus solely on our C.L. BUTAUD project in Texas. While wrought with mixed emotions, this is not a sad ending but rather the beginning of an exciting adventure. The friends, mentors, industry partners and co-workers we have met in Napa since 2006 will hold a special place in our heart. We have had the pleasure of drinking LIGHTNING with many of you and truly love all the emails, texts and photos we get of you enjoying the wines in your homes, with friends and family. Thank you for supporting our family business and for drinking our wines over these years.
That said, we would love to stay in touch and continue sharing wine with you. Please visit our C.L. BUTAUD website to join our mailing list or join our Wine Club!
---
Randy Hester
Shortly after arriving in Napa in 2006, Randy began his winemaking journey at Cakebread Cellars. Recognizing the need for both experience and education, that first summer he also started taking classes in enology and viticulture. He continues to hone his enological skills and viticulture practices to the present. Randy has also had the good fortune to work with many highly acclaimed winemakers such as Andy Erickson, Michel Rolland, Mike Hirby, and Helen Keplinger, at various distinguished producers including Colgin, Caldwell, Realm, and Marciano. Today Randy is the winemaker for C.L. Butaud Wines and manages wine production and vineyard logistics, as well as sales and marketing.
Brooke Hester
Brooke is a CPA and a Texas A&M Aggie. She gained the majority of her wine business experience as the CFO of Patz & Hall Wine Company, where she worked for her first 5+ years in Napa Valley. Before being in the wine business, her background includes tax consulting for Arthur Andersen LLP and accounting and financial analysis within the oil and gas industry.
Brooke handles the business side of C.L. Butaud Wines, including accounting, finance, and compliance. If magazines wrote articles about rock star accountants, she would be a household name.
Our Lightning Wines label
The photo on our label is from artist Paul Hadley.
Randy and Paul first met over a few glasses of Lightning Wines – Paul was a guest of a couple of Grenache Society members being hosted at the winery. Randy became interested in Paul's artistry and was excited to peruse the product of Pioneertown, CA. It's hard not to be attracted to the vitality and expression of Paul's photos, and the Lightnings were instantly captivated. This photo of an impending storm really struck a chord on many levels and even reminded Brooke of growing up in West Texas. They knew right away that they wanted this to be the new label. Throughout the process Paul was generous with his time and his work, and continues to be supportive and encouraging with all that Lightning Wines is involved in.
More of Paul's amazing work can be found at www.paulhadley.com.