Randy's favorite toddies served up at Lightning HQ happy hour.
Randy is partial to the Sazerac. He first had the drink at the Hotel Monteleone's Carousel Bar in New Orleans. The simple – but specific flavors – make this one of his favorite drinks to whip up.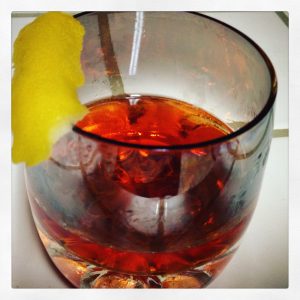 Randy's recipe below……
Ingredients: For 2 drinks
• ½ oz. simple syrup, or one tsp. sugar + water
• 5 good dashes Scrappy's Creole bitters
• 1 dash Peychaud's bitters
• 2 dashes Angostura bitters
• 3 oz. Rittenhouse rye whiskey
• Splash of Herbsaint, Absinthe, Pastis, or one drop of licorice bitters
• Lemon zest peel (some twist, but I prefer more of a peel using a potato peeler)
Preparation:
1. Fill an old-fashioned glass with ice; set aside to chill
2. Fill shaker with ice, add first four ingredients, and stir
3. Empty the old-fashioned glass and add splash of Herbsaint
4. Coat the inside of the glass and discard (or not, I like that flavor)
5. Strain the shaker contents into the old fashioned glass
6. Rub the zest around the rim and drop it in
Traditionalists will say that the lemon twist should be squeezed over the drink to release its essences but that the twist should not be dropped into the glass itself.  Personally, I like to see it, and I like to smell it, so it goes in.
Sip, don't slurp!

XXOO Brooke