The holidays wouldn't be the same without these three things:
Our favorite movies (

His

: Home for the Holidays,

Mine

: Love Actually)

Lightning

wines (natch)
Randy's macaroni & cheese (R isn't a fan of most holiday foods so this tradition started when he realized he better bring something to the table that he would actually eat*).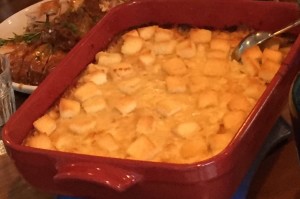 Randy's mac & cheese recipe is top-secret. He won't write it down for me so I took photos of his process so we could piece it together. Let me know if you think you've figured it out – AND, how it turns out!
Say cheese!
XXOO Brooke
*I'm sure you are curious – what does Randy eat at holiday meals? Only the mac & cheese and rolls. Maybe some ham.  True Story.