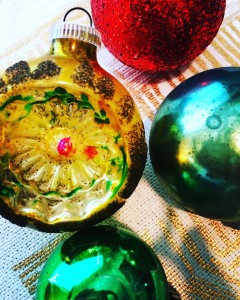 I found some of my Grandma's  old ornaments when I unpacked my Christmas decorations last week and it made me think back of some of my favorite memories of her.
A few things about my Grandma:
She loved Young & The Restless. My mother did not allow us to watch soaps at home so we could only watch at Grandma's house. AND WE LOVED IT! Victor, Nicki, Phyllis…agghhhh!
She made the best spagetti and meatballs. I learned later she used  a canned sauce but it never changed my mind. I still loved it more than all the homemade sauce my Mom made (sorry Mom!).
She mailed me cookies and candied orange slices when I was away at college my Freshman year. I loved seeing those care packages in the dorm mailroom.
She had a dressing table in her room and gave us her almost-empty powder compacts to play with. She had her perfume lined up on that table and I still stop in my tracks if I smell her scent in a crowd.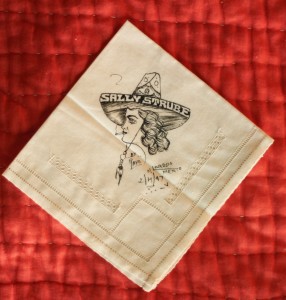 When she passed away, every grandchild received some things to remember her by.  This is what makes me smile every day when I see it….
XXOO – Brooke